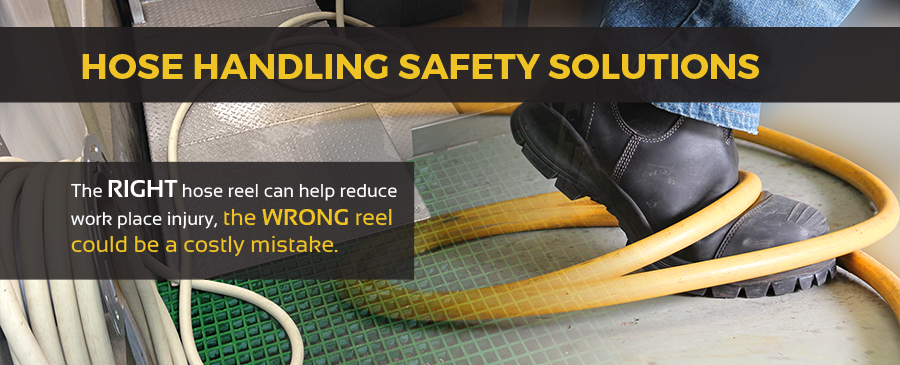 Reel Tech, a hose and cable reel company with over 20 years' experience in reel innovations and improvements, has designed the Safe-R-Reel to address this industry problem with a solution engineered and manufactured in New Zealand and Australia. If an operator releases the hose, Safe-R-Reel prevents damage to employees and equipment, by producing a controlled and safer rewind speed.
Many conventional reel springs are housed internal to the reel drum body, making servicing impossible without completely dismantling the reel. The Safe-R-Reel's spring system is enclosed externally and easy to service.
Safe-R-Reel is easy to fit to new or existing spring rewind reels. Optioned in full stainless steel, Safe-R-Reel is a robust, hygienic, safe upgrade for all dairy, food and beverage production and processing plants.
Reel Tech has identified 10 hose reel hazards, including rewind speed, to include in your safety risk assessment, and have released their booklet, "10 facts of hose reel safety". Request your copy of the booklet for more information on rewind speed and other hazards such as plastic reels shattering in food production.


[h5]Please complete your name and email to download[/h5]
The downloaded information from this Web Site is for your personal use only and not for commercial exploitation. Some of these products are protected by Patent and trademark copyright. Full terms & conditions of suppliers available upon request.

N.B information used by Reel Tech only.
By clicking the button below, I agree with the
Terms & Conditions
.
Get Download Link
See also, Reel Tech info-sheets on Safer Hose reel handling payout and deployment to help manage a safer and ergonomic work environment.