ReelTech Manufactured Reels Resources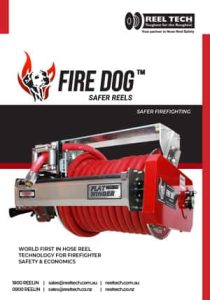 FireDog Reels
Fire Dog™ hose reels are ergonomically designed to deliver intuitive operation and improve safety. The reels are engineered and made in Australia. A first in firefighting hose reel systems with safe direct drive technology, and provided extra safety options like the unique Flat Winder™ level wind system.
Can't seem to find what you are looking for?
Contact our sales team can help you.
If you can't seem to find a reel to suit your needs or simply can't find what you are looking for, feel free to touch base with our Reel-Tech team who are always ready to lend a hand and answer any enquiry regarding our extensive range of products.