Reel Tech, an Australian based company with branch offices in New Zealand and a member of the Spray Nozzle Engineering group. Reel Tech is a specialist in hose and cable reels and is the exclusive Hannay distributor in Australia.
Hannay hose reels have one of the most extensive hose and cable reel ranges available throughout the world. Hannay's standard range cover hose sizes from ¼" I.D. through to 3″ I.D. hose, in many rewind options inclusive of spring retractable, air, hydraulic, and manual rewind. Our hose reel range is available in painted rugged steel construction and in full hygienic, corrosion-resistant stainless steel.
Safety is an important factor in any industry, hose reels reduce trip hazards by safely stowing hosing this also contributes considerably to extending hose life. Reel Tech has had extensive experience working in many industries such as mining, paper mills, steel mills, food, beverage, pharmaceutical, maritime and military / defence industries. We are also very proud that our fire and rescue reels are used very extensively throughout many of our metropolitan and rural fire services, ask us about our experience in this critical area.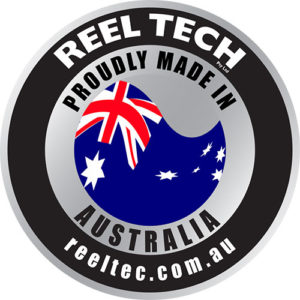 Custom made hose reels is Reel Tech speciality. We have designed and built many specialised hose reels that can be tailored to any application. Reel Tech also has an extensive range of direct drive reels that are available in air and hydraulic rewind.
We can offer one of the most extensive range of reels, service and technical back-up available so please call the REEL leaders anytime.
Reel Tech reels can be selected for trouble-free operation and help maintain the structural integrity of the hose it's storing

Reel Tech is the leader in recognising and offering solutions to assist industry towards reaching codes of best practice

The company strives for continuous improvement, with a focus on providing hose solution systems that are ergonomic, efficient and safe for operators

Our reels can be specified and custom made in a range of materials and finishes including standard painted steel, hot-dipped galvanised steel, full stainless steel, light-weight aluminium or a combination of all. 

Rewind options include manual, spring, air, electric or hydraulic including direct-drive motorised technology