Reel Tech in partnership with Hannay Reels® are leaders in recognising designs & implementing the code for practice in the field of reel design & hose handling systems with safety ergonomics in mind.
Starting with the correctly specified and designed reel for the application is critical. Reels should partner the work process – not supplied as an after-thought Reels modified to the application and operator will deliver safer, lower costs and higher productivity.
Reels can be custom made with manual, spring or air / electric power rewind options for all hose and cable handling applications including fire & rescue, aviation & fuel delivery, mining, video & audio, industrial, food processing & pharmaceutical and all aspects for storing cable & hose.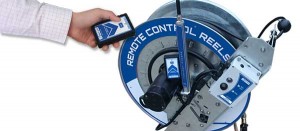 Safer One Person Operation
Patented hose layer system "Flat winder" and remote Controlled Rewind Technology